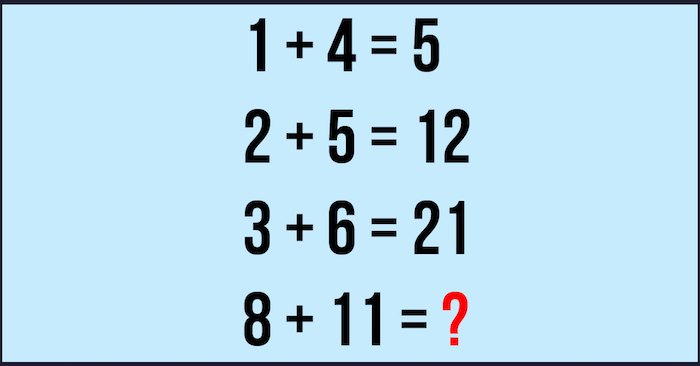 Tallgåter har en tendens til å få folk til å rynke på pannen og klø seg i hodet, ikke minst ettersom det ofte kan dukke opp flere tenkbare svar som deler folk i to ulike lag.
Denne testen er et sånt eksempel – og når det først begynte å spre seg på Facebook så ble det sagt at bare 1 av 1000 klarte å løse gåten. Jeg vet ikke om det stemmer men vi er mange som har testet her og det er mange som gjetter feil.
Så gjør deg klar til å teste din genialitet og del gjerne videre om du klarte å knekke koden.
For å klare gåten, der du skal erstatte spørsmålstegnet med et tall, gjelder det å tenke utenfor boksen.
Her er regnestykket:
Siden gåten ble lastet opp på Facebook har den fått over 3 millioner kommentarer.
Det som er interessant er at det finnes to svar som stadig dukker opp når folk har fullført testen – ettersom det finnes to ulike metoder for å regne ut regnestykket.
Ta en titt igjen – og se hvilket svar du kommer fram til:
Er du klar?
Det ene svaret er 40 – og det andre er 96.
I denne filmen kan du se hvordan du går frem for å løse gåten, samtidig som du får vite hvilket av svarene 40 og 96 som er det mest logiske.
Hvilket svar fikk du? Ikke glem å dele og utfordre vennene dine.